The annual Denton Golf Tournament is the primary fundraising event of the Denton Family Foundation. The event is held at Lakeview Golf Club, east of Harrisonburg, with beautiful views of Massanutten and the Valley. With your help, the Denton Family Foundation focuses charitable efforts in the City of Harrisonburg and Rockingham County and has donated a half a million dollars since 1998.
This year's recipient is Open Doors.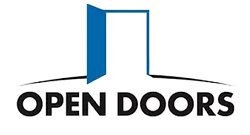 Sponsor a local cause Register Golfers

Providing a safe-haven for those experiencing homelessness in the community, the mission of Open Doors is low-barrier shelter, compassionate support, and access to services.